Pintola Peanut Butter: Natural and Healthy
Pintola peanut butter is made from the finest grade, fresh, crunchy and nutritious peanuts available in market. These are free from harmful preservatives, excess sugar and excess salt. You get a variety of flavours – creamy, crunchy, and chocolate in peanut butter, available in various packaging sizes.
Among the healthiest peanut butter brands available in India, at reasonable pricing. Other peanut butter brands available in India use oils and fillers, but PINTOLA uses all natural and healthy ingredients. Tastes good and has a nice texture to it.
Pros: All peanut (no additional things added)
Cons: Taste is bland because no sugar, more 'liquid'ish because of the absenceof emulsifiers
If you're a big fan of peanut butter, you're going to like Pintola peanut butter, an affordable product. The other peanut butters are either very tasty (too tasty to be healthy) or are expensive (if its imported). Its manufactured by Das Foodtech, a peanut butter manufacturer and exporter based in Gujarat, India.
Pintola All Natural peanut butter is bland with a neutral taste, and bit oily. It's also darker in color (compared to other brands like sundrop, funfoods). I guess its because these guys include the peanut skins which contributes to the darker color. It only makes it healthier because it increases the fiber content. It has got only peanuts (100%) and nothing else.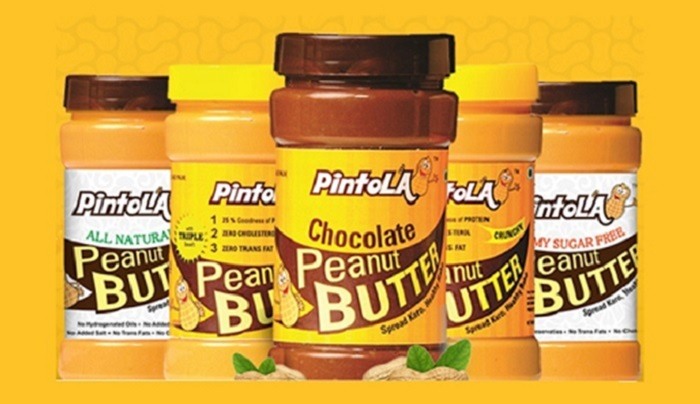 Its also very affordable, compared to other peanut butter's available, which are quite highly priced and includes ingredients like oils, salt, sugar etc. Other peanut butters available in the market include lots of filler, to bind the entire thing together. But then, its not really needed, because you want the peanut butter to be as natural as possible.
You can eat it with bread, use it in sandwiches, cookies, smoothie and ice-cream, and in other recipes.
Some users say that Pintola should have included natural sugars like jaggery or honey, because the taste is bland and almost tasteless. However, most genuine health products are bland, so that's a small compromise to make especially when you're getting a really healthy product.
Pintola peanut butter nutrition facts: You should eat peanut butter to get PROTEIN and healthy fats (cut down on carbohydrates to reduce weight).
Next time you pick up any product, do read about its ingredients.