Mickey Mehta: Born to Heal
Interview of Mickey Mehta: Here's how he sees the fitness and wellness profession.
Mickey Mehta is India's leading holistic health, well-being / wellness & fitness Guru and besides running his successful 360 degree gyms, he's also TV and Radio presenter and a columnist in various leading publications. Here's more on how Mickey Mehta got started in this profession and how he views the fitness & wellness profession. Also read why Mr. Mehta is so excited about the fitness and wellness industry, and feels its a great time for trainers to be in this industry.
The industry looks promising
"Wellness has become quite an exciting field for people from all walks of life. There is a great need for trained experts and therefore this has become a revered profession."
Demand for trained personnel has increased as people from various fields like sports, business houses, educational institutions, and of course individuals are looking for fitness & wellness solutions.
What does one need to excel in the fitness industry?
Passion for excellence, knowledge and good communicative skills are the key parameters one needs to excel in this field, he says. "If you have good communicative skills and good knowledge about the profession, your future is secure," he adds.
How much can fitness trainers earn?
Gyms and fitness studios are always on the lookout for experienced, knowledgeable and committed trainers.
A novice can start with an earning of Rs.5, 000/- or more per client, per month. With experience, this can go up to Rs.25, 000/- or more.
Challenges faced by beginners/novices?
Mickey says that financial constraints, lack of proper vision and planning can be the most daunting factors initially for those seeking an entry in this line of work as fitness trainers.
However, if you are equipped with rock solid qualifications, commitment and vision in this field, it is just a matter of time before you establish yourselves, Mehta says.
Advise to Youngsters
Here's what Mickey Mehta has to say to fitness enthusiasts who are keen to make a career in the fitness and wellness industry.
Mehta advises professionals to study and understand the nuances of wellness, expose their mind to new ideas in order to take their belief and philosophy forward.
Finally, Mickey says, "There must be fire in your belly and passion for excellence. Only then will you be able to make a difference to the well-being of the people you serve".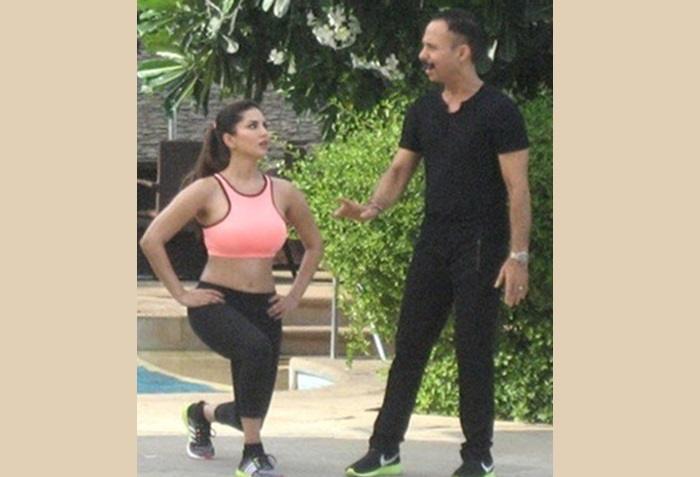 The Early Days
Mickey Mehta was always passionate about physical activities, swimming, wellness, and studied yoga, meditation, exercises like calisthenics, boot camp and natural nutrition.
He always had the urge to reach out to people to heal and improve their wellness quotient. Mickey says, "I was born to heal the world."
Mickey Mehta started his career in the fitness industry in a typical manner, like most personal trainers do. Besides working as a personal trainer and a visiting masseur, he was also a black-belt martial arts instructor.
Mickey then worked for big luxury hotels such as Ramada Plaza Palm Grove (property of Ramada International chain of hotels), The Holiday Inn, Muscat-Al Madinah, Oman and The Oberoi Trident at Nariman Point, as club health manager.
Going Solo
After working for a few years, Mickey Mehta went solo; his 'Learn Swimming in 24 hours' programme became quite popular and received good press coverage and it even found its way to The Limca Book of World Records in 1995. People used to talk a lot about the programme, and many also had their doubts as to whether its really possible to learn swimming in 24 hours. Nevertheless, he got good publicity because of that swimming programme.
Mickey then moved on to practice holistic health and well-being, and started writing for leading newspapers such as The Times of India Group, The Asian Age, and many more.
Becoming a Celebrity fitness Trainer
In 1993, Mickey Mehta served as a coach for the participants of 'Femina Miss India', where he advised the contestants on nutrition, how to stay calm, and how to take care of their body.
Mickey Mehta was now on his way to becoming a celebrity trainer/guru. His clientele now included media barons, Bollywood celebrities and industrialists, to whom he served as a wellness coach.
Mickey Mehta's 360 degree Gym Launch
Mickey Mehta now had all the experience and the resources to start his own brand of gym. In 2003/2004 he inaugurated Mickey Mehta's 360 degree Gym (there are several branches in Mumbai now), which are now promoted as wellness temples.
Mehta believes in equipment free training as far as possible and that is why he focuses more on functional workouts (with prop training). "We train our clients on their journey to fitness and wellness using their own body weight and not depend on a machine," says 'Mickey.
Mickey Mehta's Goals
Mickey Mehta's goal is to offer complete well-being of the mind, body and spirit through nutrition, yoga, meditation and breathing exercises. He wants to spread the concept of wholesome wellness and the message of compassion and love to the entire world, something he endeavors to do through his "Heal the world" initiative.
Mahatma Gandhi's Contribution to Wellness: Film By Mickey Mehta
Mickey Mehta says the two-part 90 minute plus film titled "Gandhi- The Healer" has been shot in Mumbai, Kerala, Ahmedabad, Nagpur, Bangalore, and other cities in India.
Fitness guru Mickey Mehta is launching a new film, with mantras culled from the lifestyle of Mahatma Gandhi, set for October 2 release this year.
"There is plenty of material on Mahatma Gandhi but not much is available about his contribution to wellness. Very little is known about that side of the man, so I thought I should do something about it," says Mehta.
The 52-year-old holistic health guru says he was smitten ever since he watched the multiple Academy award winning film "Gandhi" by Richard Attenborough during his college days. "I was very impressed after watching that film and have looked up to him as an ideal person. I started researching for the film a year ago and first put together a document. I also spoke to many Gandhi scholars to validate the research," says Mehta.
Mehta says the two-part 90 minute plus film titled "Gandhi- The Healer" has been shot across seven locations including Mumbai, Kerala, Ahmedabad, Nagpur, Bangalore, among other cities.
Supported by Aditya Birla and Bharat Parekh of the Eternal Gandhi Foundation, the documentary features interviews by renowned people such as Shyam Benegal as well as various yoga experts and other "authorities on Gandhi."
Source: business-standard