What's your BMI (Body Mass Index)? Calculate it here
What Is Your BMI? Are you looking for an easy to use BMI Chart & Calculator?
Here is an easy way to determine your Body Mass Index.
Not just fitness and nutritionists talk about BMI, even Doctors use BMI (along with other health indicators) to assess our current health status and related health risks.
Not sure if you are on the thinner side or slightly on the fatty side? Here is an easy way to find out! You can determine your BMI with the calculator below.
What Is BMI?
BMI stands for Body Mass Index. It is basically a chart that helps you determine your body weight relative to your height.
A Body mass index chart tells you if you have the right amount of fat, or are you over-weight (or underweight).
The BMI chart is applicable for adults aged 20 to 65. It does not apply to infants, pregnant or brast-feeding women and adult over 65 years of age.
The Body Mass Index (BMI) formula was developed by Belgium statistician Adolphe Quetelet, and is also known as the Quetelet Index.
The BMI chart and the BMI calculator below provide a numeric measure of your "thinness" or "fatness". Use it to determine your Body Mass Index.
Healthy Weight BMI from 18.5 up to 25 refers to a healthy weight.
Overweight BMI from 25 up to 30 refers to overweight.
Obese BMI 30 or higher refers to obesity. Obese persons are also overweight.
Here's a body composition chart that is usually taken at a gym on the first day when you join. After a couple of months, this chart is again generated to see how your body has changed in those few months.

As you can see, besides BMI, the chart shows various other parameters like BMR (Basal Metabolic Rate), WHR (Wait to Hip Ratio), PBF (Percentage Body Fat), Proteins, TBW (total Body Water), SMM (Skeletal Muscle Mass). You have to provide yourage, weight, and height.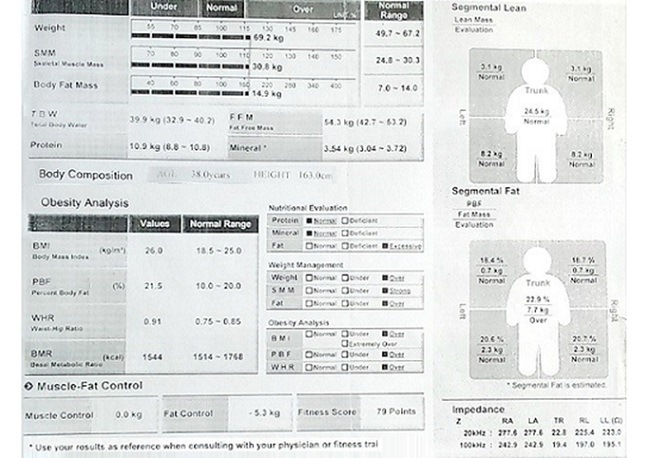 BMI between 20 and 22: Ideal, healthy amount of body fat, makes you look attractive.
BMI between 22 and 25: Acceptable range, considered to be healthy.
BMI between 25 and 30: On the "Hefty" side, time to lower your weight, through diet and exercise.
BMI over 30: Unhealthy condition, likely to have heart disease, diabetes, high blood pressure, and more. time to get serious about losing weight.
The Body Mass Index (BMI) is calculated with the formula weight divided by height in meter to square. To make it easy for visitor of your web page to calculate the Body Mass Index, use the
BMI Widget/BMI-Club
in your website . Allow me to call your attention to
BMI Formula
.
Thank you for using the BMI calculator of BMI-Club.
BMI Chart – How Do You Read It?
Depending on what your BMI is…your body composition could be placed in one of the following categories.
Under weight 18.5
Healthy 19-25
Overweight 25-30
Obese 30+
Obviously, a high BMI increases your risk of diseases and aliments.
Diabetes, hypertension, heart diseases, certain types of cancers are just a few of the problems that have been linked to people with very high BMI.
So watch out for your BMI – Body Mass Index!
Limitations of a BMI Chart
There a couple of limitations though with using a BMI chart!
It does not tell you where fat is located
Does not distinguish between fat mass and muscle mass
The obvious problem with the second point is that if you have a lot of muscle mass, your BMI could be calculated in the over-weight range.
But in this case you have more of muscles…so nothing to worry about!
If your BMI is high and you do not have a pot belly, then you are probably alright.
Who Should Use BMI Charts?
BMI charts are usually used by obese individuals, where it is difficult to determine your body composition with calipers.
A better measure of your body composition is by measuring Body Fat!
You can have this checked by a professional, or if you have a pair of calipers you can do it yourself here.
If You Are A Male
Athlete < 10%
Lean 10-15%
Normal 15-18%
Above Average 18-20%
Over-weight 20-25%
Obese 25+%
If You Are A female
Athlete < 17%
Lean 17-22%
Normal 22-25%
Above Average 25-29%
Over-weight 29-35%
Obese 35+%
BMI for Seniors / Over 65
The Body Mass Index (BMI) used for older people (above 65) is different than the general population's normal ranges, says a report.
Doctors recommend that instead of focusing on weight loss, older people should have more of a balanced diet, eat when hungry and keep active.
"It is time to reassess the healthy weight guidelines for older people. Our results showed that those over the age of 65 with a BMI of between 23 and 33 lived longer, indicating that the ideal body weight for older people is significantly higher than the recommended 18.5-25 'normal' healthy weight range," Caryl Nowson, a professor of nutrition and aging at Deakin University.
Summary
If you think you are either on the thinner side or slightly on the fatter side, measuring your BMI is the first step before you start working upon it. The BMI calculator provided here will help you easily calculate your Body Mass Index, an indicator of whether you are under-weight, healthy, overweight, or obese.
Read here for a better way to calculate Body Fat!