'300' workout: Get fighting fit with the Spartan fitness training
The movie '300', where the Spartans battle it out with the Persians, was hugely popular, almost took the world by storm, and is something that most men just can't get enough of. Why? Because of its eye-popping visuals, the amazing fight sequences, and last but not the least, the amazing physique of all the 300 Spartans. I mean, you could get inspired by each of those 300 guys, and not just Gerard Butler.
So how do you get a Spartan physique?
You do the '300 workout' routine. Brainchild of Mark Twight, he warns that his Spartan workout is not for the faint-hearted, nor for the out-of-shape. Here's the workout routine that those guys in the movie 300 followed to get god-like shapes. All exercises are done without scheduled rest between moves.
The 300 Workout
This workout is called the '300 Workout' not because the movie was named '300'; the workout gets its name from the total number of repetitions that the participants had to do.
Before you faint….those 300 reps weren't done daily. The 300 workout was the finale (kind of graduation test) after months of training & weight-lifting using medicine balls and Kettlebells (cast iron weights with handles).
Nonetheless 300 reps is still daunting, and it included these weight-training moves:
25 pull-ups
50 deadlifts at 135 pounds
50 push-ups
50 box jumps with a 24-inch box
50 "floor wipers" (a core and shoulders exercise at 135 pounds)
50 "clean and press" at 36 pounds (a weight-lifting exercise)
25 more pull-ups — for a total of 300 reps
The score was based on total time taken to accomplish this routine; there's no rest between the movements!
But as cautioned, you should not attempt the graduation test right out of the box. No one can do this without prior training; you have to progress.
Its like training for the full marathon; you just don't getup one day and decide to run 40-42km.
The Preparation
For Gerard Butler (played the Spartan King), even the preparation phase was lot of hard work.
After weight training and circuit training, he'd go and do training with all the stunt/sword/spear trainers and work on his fight choreography, and then practice the moves that he learnt.
Everything added up, Gerard would often train for six hours a day, for over four straight months.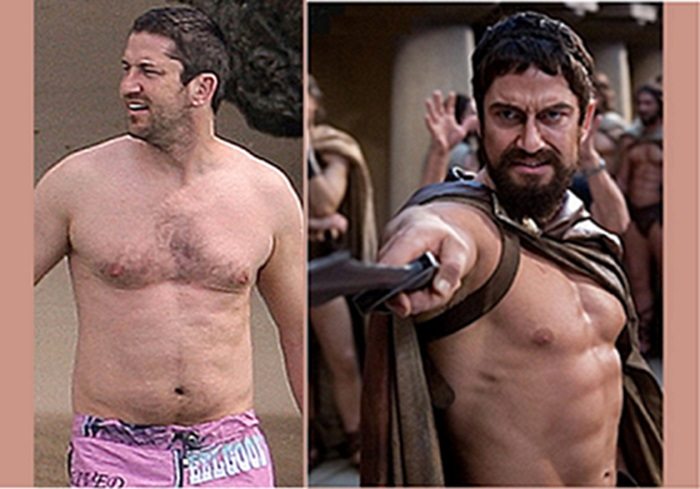 But isn't six hours a day way too much training (most of our Bollywood stars workout for about couple of hours max)?
Well, it is…but then Gerard wanted to give his best for the role, and the results definitely show up on the screen.
More Variations
Looking for easier variations of the 300 workout? Here it comes. You may do this workout 3-4 times in a week, (or every second day).
Most gyms and local health clubs have started offering a modified version of the 300 workout as the original one is considered too intense for most average persons.
The Intermediate 300 Workout
Do this only if you're in great shape already.
Pullups – 25 reps
Dumbbell Deadlift – 50 reps
Pushups – 50 reps
Body-Weight Squat Jumps – 50 reps
V-Ups – 50 reps
Dumbbell Push Press – 50 reps
Pullups – 25 reps
The Beginner 300 Workout
This is great for a guy with moderate fitness.
Body-Weight Rows – 15 reps
Body-Weight Squats – 25 reps
Pushups – 15 reps
Jumping Jacks – 50 reps
Mountain Climbers – 20 reps
Close-Grip Pushups – 10 reps
Body-Weight Rows – 15 reps